Angling
The waters around our island are filled with fish. You can even use your casting rod from the shores of the island as the water is relatively deep.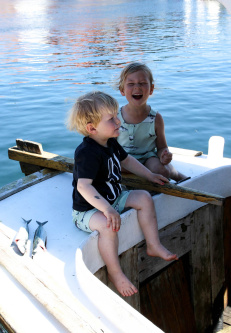 Guided tours
Participate in an exciting guided tour on the island! Listen to its history dating back to the 16th century. Experience the harsh conditions for the fishermen and the more well-situated pilots and captains.

Gunnar Arwidson
0708 – 553 769
gunnar@arwidson.se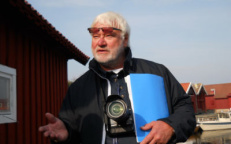 The fisherman's cottage
The local museum on the island is a small house called the fisherman's cottage. Pay a visit here to get an understanding of the life of the fishermen who used to live here on the island.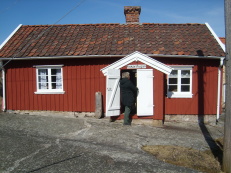 Isackesund
Around Isackesund or "the Strait of Isack" you will find the oldest houses on the island. This is where the boats docked before the main harbour and dock were built in the 1930's. Here you can really feel the history among the old boathouses that have been here for centuries. They were built using driftwood and material from ships that sunk around the island. Equally beautiful whatever time of the year you come. The beautiful stone pier was built more than 300 years ago to protect the small harbour.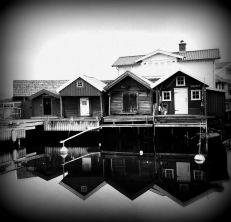 Kyrkan
Käringön har varit bebodd sedan 1500-talet och 1795 blev ön kapellförsamling. 1796 togs kyrkan i bruk och gjorde det möjligt för de omkring 300 invånarna att fira gudstjänst i en egen kyrka.
Kyrkan har ett 20 meter högt torn med en kopparklädd spira. I omkring 100 år var kyrkan rödmålad på utsidan, men idag är den vit.

Altartavlan från 1670 är från början ett epitafium, en minnestavla, över kyrkoherden i Morlanda, Nils Holger Anctander (död 1667). Dopfunten är från 1901 och predikstolens korg är från 1600-talet och är en gåva från Fiskebäckskil. Ljudtaket är snidat av Olle Eliasson.

Kyrkans första orgel köptes av medel donerade av änkan Anna J. Pettersdotter vid hennes död 1875. På orgelläktarens barriär är de fyra evangelisterna samt Moses och Aron avbildade. Dessa målningar gjordes antagligen när kyrkan byggdes, men målades i något sammanhang över. De togs fram igen på 1900-talet.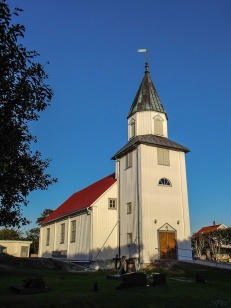 The pilot viewpoint
The pilot viewpoint is located on the west part of the island.
In 1960, the pilot station at Käringön was closed down and moved to Lysekil. The last remaining pilots at Käringön were Ville Bagge and Bengt Bull.

Lotsutkiken är belägen på den västra delen av ön.
Lotsarnas utkik var tidigare placerad på Rösseberget och flyttades ut i väster till sin nuvarande plats under mitten av 1800-talet. Från början var det troligen bara ett utsiktstorn.

1904 omkom samtliga lotsar på Grönskären i ett räddningsförsök av besättningen till ett förlist fartyg. Lotsutkiken på Grönskären utanför Tjörn flyttades därefter till Käringön. Det var endast en kur och en så kallad galge. Galgen var en kraftig träställning med plattform som användes för signalering till fartyg.

1926 murades en hög sockel till kuren och några år senare byggdes en utkik, på kurens tak, för att man skulle få en vidare vy över havet och senare revs galgen.

1960 lades lotsplatsen på Käringön ner och flyttades till Lysekil.
De sista lotsarna på Käringön var Ville Bagge och Bengt Bull.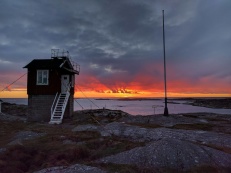 Måseskär lighthouse
Immediately west of Käringön is the island of Måseskärs with it's old and new lighthouses. The old lighthouse was built in 1865 and is 27 metres high. The lighthouse and the connected houses were very important since the waters are really dangerous because of all the small islands and under-water rocks. This part of the coastline has always been known as one of the most dangerous places for seafarers. In the middle of the 1970-ies, the old lighthouse was replaced by a modern one (to the left in the picture).

You can enter the small harbour of the island by boat, but you really need to know the waters very well to do that. See boat trips!

On December 7, 2017, we were reached by the happy news that Måseskär becomes a state monument (statligt byggnadsminne), which means that the lighthouse and it's houses will be maintained and preserved for generations to come financed by tax money.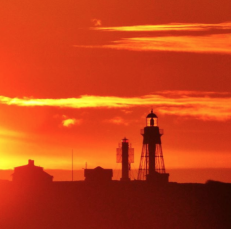 Nature pass Käringön
"Naturpasset" (the nature pass) is a detailed orientation map that is used for finding a number of controls located at interesting spots on the island - collect as many as you like! This is a fun and interesting way of finding your way around the island.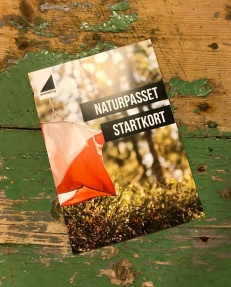 Walking paths
There are plenty of small roads on the island and you can walk for hours and still not understand how they are all connected. But don't worry, you will never be lost and you will always be able to find your way back to the harbour easily. Still, we really recommend you to leave the paths and get out on the rocks to really enjoy the beauty and wilderness of the untouched nature out here. It's also good to know that there is basically no private land on the island so you can walk wherever you like - even between houses.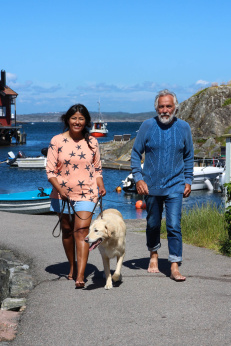 Simson's Vicarage
August Simson (1815-1900) and his wife Fredrika bodde used to live in the normal vicarage just north of the church, but later they built this beautiful house west of the church as their private house. The building of the house was ready in 1877.